Upon completion in 1976, La Palapa became internationally recognized as one of the best hotel destinations in Mexico. Boasting a glorious beachfront location right on Icacos Beach and situated in the heart of the Golden Zone, its spacious one-bedroom suites with panoramic views have attracted visitors for over a generation.
Bowing to heightened competition, La Palapa recently converted from a hotel into privately owned condominiums. While visitors can still book at La Palapa, all rentals must be coordinated directly with the private owners of the individual units.
You can also now own an apartment at La Palapa. No timeshares or other questionable arrangements but full legal ownership in your own name that you can occupy, rent out, sell, swap or even couch surf as you please.
About the Building
At a height of 118 meters (387 feet), La Palapa is an indelible part of Acapulco's famous skyline. It is ranked among the tallest buildings in Mexico and is currently the fourth tallest building in the southern part of the country.
La Palapa consists of 378 privately owned units and 29 stories including an expansive lobby and a mezzanine level. Residential units are located on floors 3 to 30 (as was customary, number 13 was omitted). La Palapa offers 14 apartments per floor, which are spread across three distinct wings; each offering it's own magnificent panoramic view.
Apartments numbered 01 to 06 are located on the "Las Brisas" wing and offer stunning views of Icacos, Joyas de Brisamar, Las Brisas, Icacos Beach, Acapulco Bay and the open ocean. While these units have a fantastic view during the daytime, this side of the building really stuns at night thanks to neighboring skyscrapers such as La Joya and Costa Victoria which turn the view into a carnival of lights as evening descends.
Apartments 09 to 15 (again, 13 has been omitted) are located on the "La Condesa" wing, which boasts incredible panoramic views of the Golden Zone and the famous hotels and condos that ring the bay. The wing offers a view of the full expanse of Acapulco's deep blue bay all the way from Costa Azul to Las Playas.
Apartments 07 and 08 have a full 180-degree frontal panorama of Acapulco Bay, which is nothing less than breathtaking.
Some of the building's amenities include:
24-hour security
24-hour front desk and maintenance
Free high-speed Wi-Fi
Expansive oceanfront pool and deck with direct beach access
Two sets of double elevators (one for each wing) as well as a service elevator.
Underground parking
Why La Palapa?
Location, location, location
Located in the heart of Costa Azul (one of Acapulco's most tranquil and attractive districts), La Palapa offers the BEST location in Acapulco by almost any measure. Owners and their guests rarely need to get into a car; virtually everything is within walking distance making one's day-to-day activities a pleasure rather than a battle royal with the local traffic.
Click here for a list of distances and directions to some of Acapulco's most noteworthy bars, restaurants, and attractions from La Palapa.
The Low Cost of Ownership
For owners, La Palapa represents not only the best location in town but also the best deal in town. For one, La Palapa boasts BY FAR the lowest condominium fees for a comparably situated beachfront skyscraper in Acapulco at about $2,400 MXN per month (or about $130 USD per month as of this writing).
The best part is that at La Palapa this fee includes all electricity and water! This is an enormous benefit as electricity is expensive in Acapulco. Because Acapulco's tropical climate often requires the constant use of air conditioning, this can represent a savings of several hundred dollars a month on electricity alone.
Water service is not only free but, more importantly, totally dependable. This is important as much of Acapulco has their water service interrupted for days or even weeks without notice.
Property taxes are also low. Really low. In 2016, a typical unit was $2,788.57 MXN (or about $150 USD) for the year.
The Beach
La Palapa is located right on Icacos beach with direct beach access through a manned security gate. Not only can you slip out and take a stroll along the beach or a swim in the ocean but you can also enjoy the ocean breeze and the sound of the crashing waves day and night.
The administration is currently working to secure all the beach concessions so that the beach area directly in front of the hotel will become semi-private and vendor-free.
The Views
They say a picture is worth a thousand words so feel free to take a look at some photos of La Palapa. The building has distinct and AMAZING views of one of the most beautiful resort cities in the world from virtually every angle.
The Apartments
The apartments are proper one bedroom, one bathroom units with ample kitchen and closet space as well as a generous balcony – they are not glorified one room suites. The units even boast sufficient space to add an extra bathroom or even an extra bedroom. Many owners buy two adjoining units and combine them into spacious 2 or 3 bedroom units. The apartments can be completely gutted and remodeled with expansive kitchens, marble floors and granite countertops for very reasonable prices.
Renovations are underway
La Palapa has recently begun a series of renovations and its property values are rising.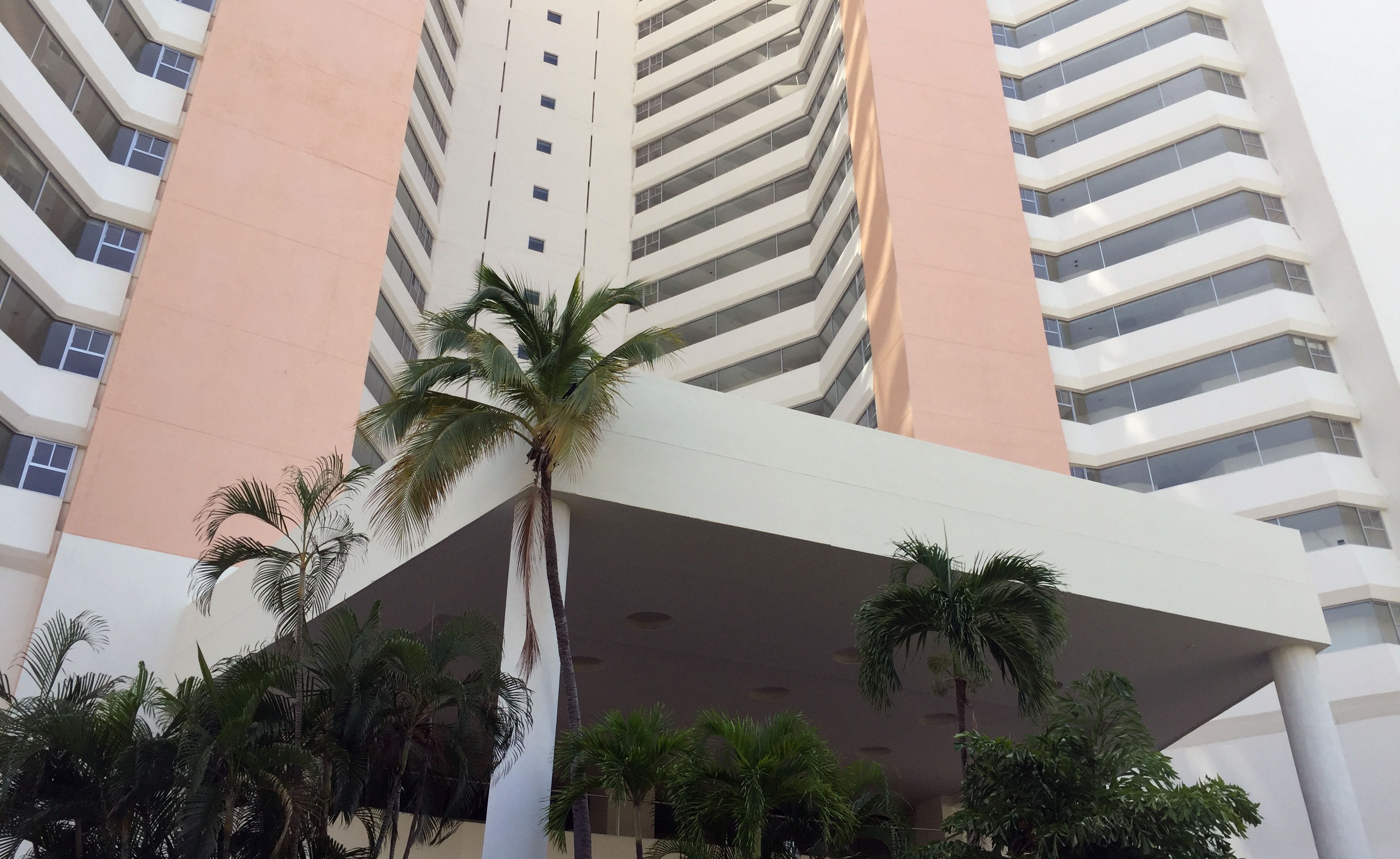 The entrance (above) was completely remodeled in early 2016 creating an attractive lounge area on the mezzanine level with a panoramic view of the street as well as a new, visually stunning vaulted canopy and all glass front access doors.
The pool and lobby areas are scheduled for renovation by the end of 2016.
There are plans to create a private roof garden for owners boasting 360 panoramic views of the city.
Contact
Have a question? Interested renting, buying or investing in La Palapa? Don't hesitate to contact us.